Arkadiusz

Szadkowski

I seek for respect not the attention, it last longer.

Did you know that 90% of digital "data" ever created was created in last 2 years?

I'm inspired by possibility to change the way people look on world by processing, analyzing and visualizing the digital data. A virtual representation (digital twin) of any physical asset or process can be used to understand and predict the counterpart's performance. The future is digital, where most of decision is and will be taken in front of the screens.

In free time I enjoy trading and investing in digital assets (aka. "cryptocurrencies"), exploring blockchain, artificial intelligence (AI) and machine learning (ML) technologies as my hobbies.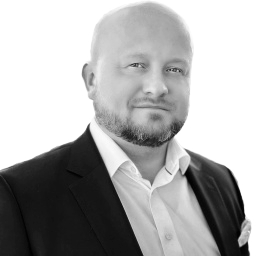 VP Software Products, IT & Cyber Security

TerraTec AS / KVS Technologies, Oslo, Norway, 2022 - present


• Provides leadership, direction, and strategy for Software Development, Cloud computing services and IT/CS program.

• Measures, analyze, track and report business, operations, and quality metrics to achieve targets while analyzing trends and identifying areas for improvement in Software, Cloud, IT & Cyber Security areas.

• Fosters and maintain strong/positive relationships with architects and team leaders across a broad suite of products and services.

• Drives execution and delivery in an Agile way both release schedule and best implementation methods to ensure successful adoption by internal and external customers.

• Leads and overseas geographically & cultural distributed teams. Focused on technical issues, including b2b software development, system testing, Agile development, Cyber Security testing and delivery. Always having end product & business in focus.

• Responsible to coordinate across the IT organization and vendors to catalog, create and maintain all forms of IT governance documentation.

• In coordination with Information Security and IT management to drive the organization change towards alignment with various Information Security policies and strategies like ISO 27001 / SOC 2 type II and more

• Builds, implements and maintains a matrix of processes to monitor for risk, security program compliance, frameworks and regulations.


Leader of data processing and product development

TerraTec AS, Oslo, Norway, 2020 - 2021


• Leader of data processing production (airborne and mobile mapping), responsible for engineering team in Oslo office, TerraTec Group processing subsidiaries and outsourcing partners in five countries.

• Management of the product development process or enhancing existing products to meet customer expectations effectively. Researching, developing proposals, and supervise the design process.

• Development manager and product owner for MAPSPACE (www.mapspace.com) application developed by daughter company in Spain. Complete re-design and re-building the application with high-level and long-term perspective, creating a vision for development with focus on adding value and scaling it for new markets, products and clients.

• Business development in international markets.


Production Manager Processing

TerraTec AS, Oslo, Norway, 2015 - 2019

Production management for data processing & engineering team in Oslo office, TerraTec processing subsidiaries and outsourcing partners. Scheduling, optimizing, utilizing, allocating the processing resources & activities. Overseeing, identifying and resolving bottlenecks in day to day production pipeline for engineering processes. Outsourcing relationship management, planning, QC/QA and supply chain management. Business & product development.

Production Manager LiDAR/MMS

TerraTec, Oslo, Norway, 2011 - 2014

Production & outsourcing management for Airborne LiDAR & Mobile Mapping projects. Scheduling, optimizing, utilizing, allocating the processing resources & activities. R&D and product development for 3D cities modelling. QC/QA and Outsourcing Management. "TerraView" software architecture and product development.

Department & Production Manager

Gispro, Szczecin, Poland, 2009 - 2010

Management of the department production and finance. Business management/strategy, tender bid preparation. Contacts with clients, sales, marketing, PR, HR. Project and Production supervisor, new solutions & products development, Implementation first in Poland MMS/MLS (Mobile Mapping System & Mobile Laser Scanning), Website administration.

3D/GIS Specialist

Geo-System, Warsaw, Poland, 2008

Contract work during my collage education: 3D Modeling for Google Earth. GIS implementation in iGeoMap technology
Vienna University of Technology

Photogrammetry & Remote Sensing, 2009

Final year and MSc written in Department of Geodesy and Geoinformation of TU Vienna.

Warsaw University of Technology

Photogrammetry & Remote Sensing, 2004 - 2009

Five years Master program in Geodesy and Cartography with speciality in Photogrammetry & Remote Sensing. Graduated with MSc Diploma about: "Modelling of buildings with the use of multi source photogrammetric data" in top 3 students in photogrammetry & remote sensing speciality.

Technical School of Surveying

Geodesy & Cartography, 1999-2004

Technician diploma in Geodesy and Cartography (Zespół Szkół Geodezyjno-Technicznych w Łodzi). Received four times scholarship from Prime Minister's for outstanding performance and grades. Participated twice in national geodesy & cartography olypmiad, both times ended as finalist and won free entry to any technical university in Poland already in junior and repeated in senior year.
Publications
Relevant publications and public presentations:
Relevant other education and course work
Agile Team Management

TEKNA, 2021

The Agile methodology emphasizes individuality, collaboration, and self-organizing teams. Two of the 12 principles of the Agile Manifesto focus on these concepts: Build projects around motivated individuals. Give them the environment and support they need and trust them to get the job done.

Distance management in practice

TEKNA, 2020

This course focuses on methods and techniques for how to lead, motivate, create results and a good working environment when there are physical and geographical distances between you and those you lead.

MIT: Deep Learning for Self-Driving Cars

2019

Online series of lectures covering introduction to the practice of deep learning through the applied theme of building a self-driving car. Including coding tutorials and fundementals of TensorFlow open source machine learning platform.

Master in managing change processes

TEKNA, 2017

This course provided core competencies on how to manage change processes, both at the individual, team, and organizational levels. What does it take to get a group of people going at the same pace and in the same direction.

How to lead without being the boss

TEKNA, 2015

The course was focusing on how to manage and motivate a group towards a common goal without being boss. Involved hands-on management, delegation, objective definition, communication and networking.

Project Management

OMNIA, 2009

40h course developed a foundation of concepts and solutions that supports the planning, scheduling, controlling, resource allocation, and performance measurement activities required for successful completion of a project.

Human resource management

OMNIA, 2009

40h course examined the role of the human resource professional as a strategic partner in managing today's organizations. Key functions such as recruitment, selection, development, appraisal, retention, compensation, and labor relations were examined.
Thoughts

that define me well
The greatest leaders are measured with number of leaders they create not the followers they have

CFO: what will happen if we invest into our people and they leave us?
CEO: what happens if we don't and they will stay?

If You want to go fast, go alone. If You want to go far, go with others.

Seek for respect not the attention, it last longer.

Make more moves and less announcements
You can't change your destination in one day, but you can change the direction

Your mind is like a bank, what you deposit is what you can withdraw.

The difference between who you are and who you want to be is what you do.

Success is a journey not a finish line

I have never met a strong person with an easy past
I'd rather be hated for who I am, than loved for who I am not.

It takes very powerful man to be with a powerful woman.

A man with dreams needs a women with a vision

Remember why you started